AKILIMO CONTENT LINKED WITH DIDACTICAL SKILLS WITH iCRA
A five-day AKILIMO training of trainers (ToT) was conducted by the African Cassava Agronomy Initiative (ACAI) in conjunction with the International Centre for Development-Oriented Research in Agriculture (iCRA) on the use and integration of AKILIMO TOOLS in the workplace. This took place from the 25th to 29th of April 2022 in Akure, Ondo State. The training was facilitated by (iCRA), a non-profit organization based in the Netherlands in building career of professionals and educators in the agriculture industry to help them improve themselves and build their communities. A Total of 20 participants from 9 States (Kogi Kwara, Nassarawa, Imo, Ondo, Benue, Enugu, Oyo, Benue) in Nigeria were involved.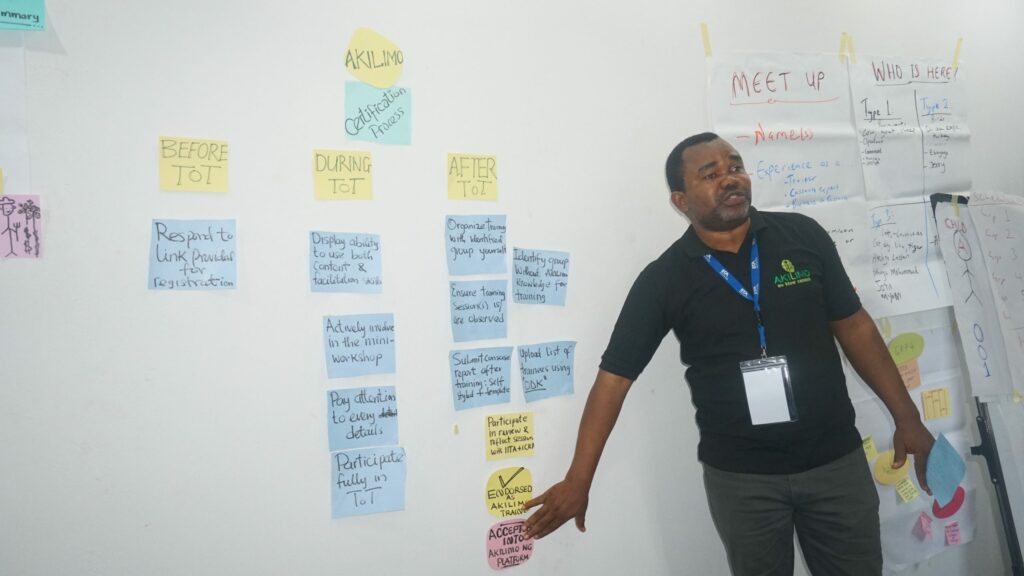 During the ToT, Mr. Ademola Adebiyi (ACAI), facilitated sessions on AKILIMO content in relation to the 4 use cases; Best planting practices and weed management (BPP-WM), Fertilizer recommendation (FR), Intercropping Cassava with Maize (IC), and Schedule Planting & High Starch (SP-HS). Dr. Thompson Ogunsanmi facilitated a session on how to disseminate the use of different AKILIMO tools using field day, media event, sensitization event, training event, Arifu bulk SMS, Viamo 321, video show etc. He emphasized how the trainees could develop SMART targets and timelines for dissemination. Also, how to come up with dissemination strategies, manage emerging constraints, integrate and/or adapt AKILIMO into partners' operations or dissemination approaches, and how to use lead farmers for community-based dissemination were also emphasized. Mr. Saburi Adekunbi presented the MEL tools to capture dissemination outputs, ODK functionalities, and how to access the tools and register event during dissemination.
The Country Representative of iCRA, Dr. Idowu Gbenga, and Ms. Fasakin Josephine (one of the AKILIMO Promoters for ACAI who was selected as co-facilitator by iCRA), facilitated all the sessions handled by iCRA. Some of the areas integrated into AKILIMO's content include learning in stairs for all AKILIMO use cases (BPP-WM, FR, IC, and SP-HS). Also, how to use the diagnosis matrix to determine relevant use case(s) as well as motivating start, explanation of theory, interim exercise, how to use cost benefit analysis as a core exercise with the use of the AKILIMO worksheet, how to review/reflect exercise, and follow-up assignment in the field.