Tanzanian high school students request agricultural training from IITA
"The only person who is educated is the one who has learned how to learn and change." This quote from Carl R. Rogers gives meaning to the request presented to IITA–CGIAR by Kibaha Boys High School students during the farmers' field day held recently in Kibaha.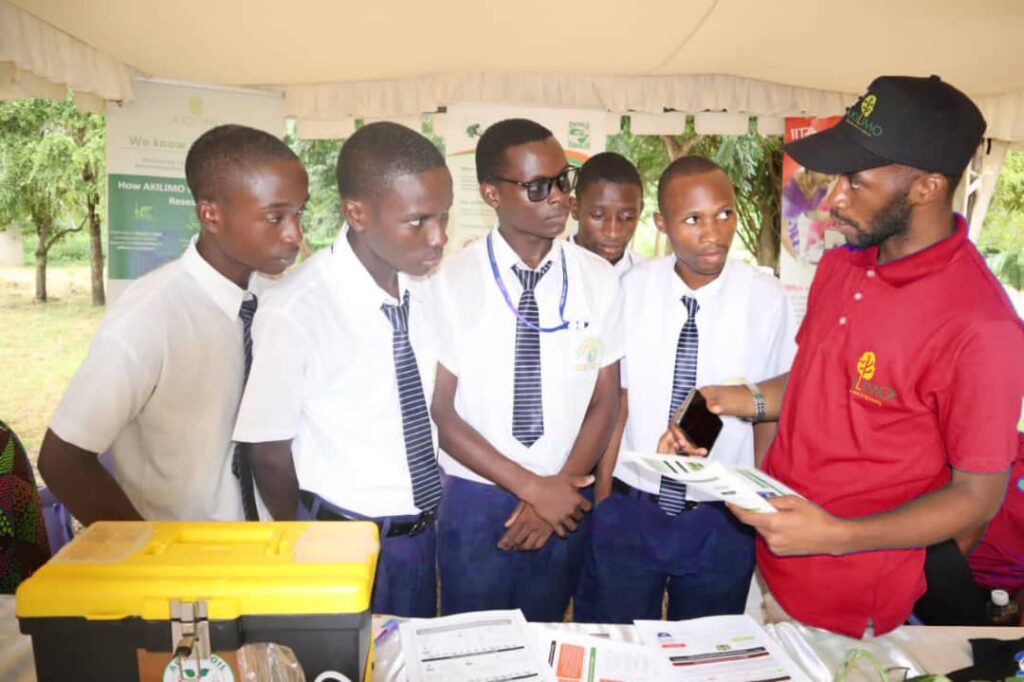 The students requested to be taught about cassava production following proper agronomy practices and digital tools like AKILIMO. They made this request after visiting the IITA booth to learn about the Institute's activities and technologies during the field day organized annually by the Tanzania Research Institute (TARI) at Kibaha center. The objective was to bring together agricultural stakeholders, including farmers, extension officers, researchers, and other stakeholders, to share knowledge and expertise related to agricultural activities.
Isack Selemani, a 21-year-old advanced-level student, said that the practical learning of cassava production through AKILIMO is the most convenient method since it would assist them once they graduate and enable them to apply the knowledge in their home fields to produce high-quality cassava and contribute to increasing food security. "I wish this could be taught in schools. In a short time, we have learned a lot, including the right time for planting and harvesting cassava," Selemani said.
"Knowledge about AKILIMO should be provided not just to farmers, but also the students, because our parents are also farmers. This makes it easier for us to pass this knowledge on," Selemani added.
Moreover, a 20-year-old Advanced-level student, William Geoffrey, praised the African Cassava Agronomy Initiative (ACAI) for the research that it has conducted to make this technology suitable for cassava growers. He stressed the importance of disseminating this knowledge to more farmers and students in villages and schools. "Is it possible to come to our school and teach us about weeding?" William asked.
"We would be grateful if you could include us in your training schedules because we also study agriculture at our school. One day, I want to be the best cassava farmer in Tanzania and make a lot of money with this crop," William added.
AKILIMO, a training package on good agronomic practices, offers a suite of tools and materials, both paper-based and digital, for cassava growers, extension workers, and organizations that promote improved cassava cultivation practices. It was developed under the ACAI project.
ACAI was a 5-year Bill & Melinda Gates Foundation-funded project in five African countries (DRC, Ghana, Kenya, Nigeria, and Tanzania) to increase the availability of appropriate and affordable technologies to sustainably improve short and long-term agricultural productivity in cassava in the target countries.
Contributed by Hadi Rashid